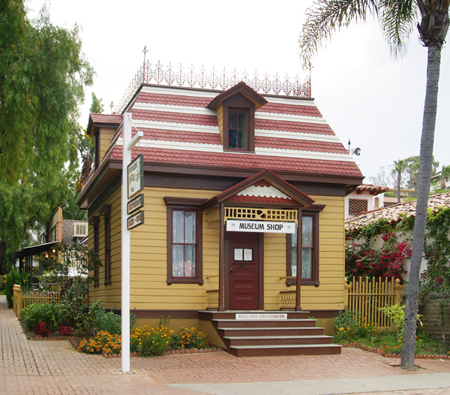 The Whaley House Museum Shop is a great source for regional history and for those interested in learning more about San Diego's exciting past. We have books and unique period style gifts from early California through Mid-Century Modernism. Take satisfaction in knowing that your purchase helps to sustain San Diego's architectural and cultural legacy.
Click HERE to see some of the books on the Whaley House and general paranormal sold at the Whaley House Museum Shop, and to purchase souvenir collector items.

SOHO Members receive a 10% discount on all Museum Shop purchases as a benefit of membership.

Visit the Whaley House Museum Shop in the historic Verna House
right next door to the Whaley House, at
2476 San Diego Avenue in Old Town San Diego.
(619) 297-7511
Whaley House admissions are sold in the shop.
HOURS for both are the same.

See the 1870's Verna House renovation.

See the completed renovation.
Now with two locations to serve your specialty needs. The SOHO Museum Shops are the ultimate source for the preservation, restoration, decoration and design enthusiast. We have books and unique period style gifts from early California through Mid-Century Modernism. Use the resources the SOHO experts use and take satisfaction in knowing that your purchase helps to sustain San Diego's architectural and cultural legacy.

Visit the newly opened Marston House Museum Shop
3525 Seventh Avenue in Balboa Park
Phone (619) 297-9327 or (619) 298-3142
---